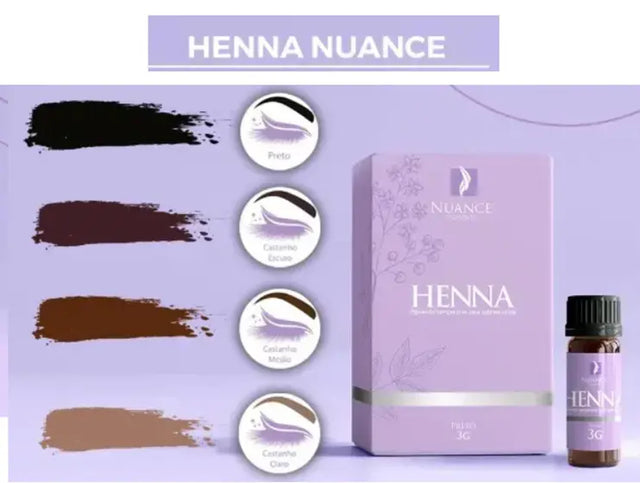 Llame a nuestra recepción y reciba atención inmediata. (Lun - Sab, 9am - 6pm)
PONCE - (787) 566-7573
SAN JUAN - (939) 327-2022
Políticas de Devolución
DEPOSITOS NO SON REEMBOLSABLES. De no poder asistir a su cita pautada, debe llamar 3 días o antes para poder asignarle otro día. Al cancelar fuera de este término de tiempo (día antes o el mismo día), Debe realizar otra cita con un nuevo deposito.
DEPOSITOS NO SON TRANSFERIBLES A OTRO SERVICIO O PERSONA.
Henna is only used on the eyebrows.
Recommended for people who have few hairs, that is, growth failures or for those who want to do micropigmentation and have doubts about the final result. 
In addition to properties that take care of the client's threads and skin, the formula already has a fixative and presents high performance.
Duration on the skin varies from 5 to 10 days depending on the client's care and skin type. It is advised to perform asepsis with cotton moistened in an astringent solution or 3% hydrogen peroxide before application.
The package contains: 1 henna powder 3g, 1 container for mixing, 1 spatula, 1 pair of disposable gloves and an explanatory leaflet.
May cause allergic reactions. To prevent, take the allergy test.
Vegan product; Not tested on animals; Does not contain parabens; Does not contain lead; Does not contain PPD.
Method of preparation:
A measure (spatula that accompanies the kit) of henna powder plus 6 to 10 drops of mineral or filtered water. 
In a glass or plastic container (included in the kit) stir well with a fine-tipped toothpick until a creamy paste is formed (the consistency of a lotion).  
Shaping the eyebrows in the desired shape;

Sanitize the eyebrows;

Apply the henna with a fine tip toothpick pressing the skin.

With a damp cotton swab remove the excess forming the design.

Allow to dry for 20 to 30 minutes. In case the skin is oily, leave more time or repeat the process. 

Remove with cotton soaked in water. 

It is recommended to stay 8 hours without washing the area.  
Composition: Lawsonia Inermis Extract, Hydroxyethylcellulose, Algin, Sodium Sulfate, Tartaric Acid, Disodium Lauryl Sulfoccinate.
*****************************************************