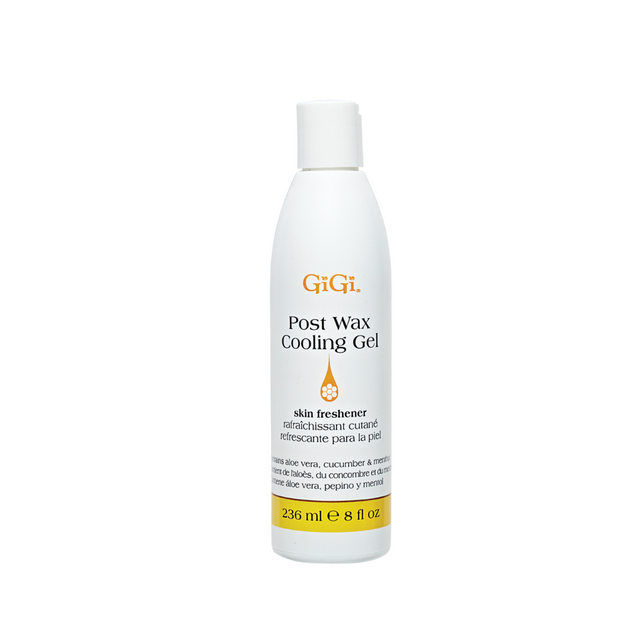 Llame a nuestra recepción y reciba atención inmediata. (Lun - Sab, 9am - 6pm)
PONCE - (787) 566-7573
SAN JUAN - (939) 327-2022
Políticas de Devolución
DEPOSITOS NO SON REEMBOLSABLES. De no poder asistir a su cita pautada, debe llamar 3 días o antes para poder asignarle otro día. Al cancelar fuera de este término de tiempo (día antes o el mismo día), Debe realizar otra cita con un nuevo deposito.
DEPOSITOS NO SON TRANSFERIBLES A OTRO SERVICIO O PERSONA.
Stay cool and clean! Look and feel good with GiGi Post Wax Cooling Gel. A must-have for your post hair removal waxing care routine. Say goodbye to redness and irritation! Calms the skin down for a more comfortable and fresh waxing afterglow. No tender soreness and uneasy feeling. Just glowing, healthy, hair-free skin all over! .
Soothing Post Wax Cooling Gel: Your best skin-cooling gel experience yet! The GiGi Post Wax Cooling Gel soothes and calms your skin thoroughly after a good waxing session. Relieves redness and inflammation with cool comfort and freshness. Leaves your or your client's skin feeling fantastic!
Skin Calming Ingredients: The GiGi Post Wax Cooling Gel is infused with gentle and natural ingredients that helps keep skin feeling fine and looking great. Contains menthol for a positively cool and fresh feeling. Glycerin for hydration and skin protection. Aloe Vera leaf juice for its anti-inflammatory properties. Cucumber extract that helps to soothe and de-puff skin.
Safe for Sensitive Skin: Clean and calm skin all over! The GiGi Post Wax Cooling Gel soothes skin to perfection from top to toe, even your most intimate areas. A great cooling gel for sensitive skin. Contains no harsh ingredients that may irritate and harm the skin.
Hair Removal Waxing Kit Essential: Never be without it! The GiGi Post Wax Cooling Gel is the perfect addition to any hair removal waxing kit! Perfect for professional wax salon use and even for the die-hard DIY beauty enthusiast at home. Just apply liberally after each waxing session and feel a unique calming coolness that leaves your skin smooth, glowing, and comfortable.
------------------------